FAQs
Welcome to our FAQ page!
Here, we've compiled a list of commonly asked questions to provide you with all the information you need about our stylish and functional leather dog bed and accessories.
If you have any additional questions that are not covered here, please feel free to reach out to our customer support team at hello@ledogcompany.com.
Product Information
Will my dog like leather?
Yes, dogs love leather. They are naturally attracted to the benefits of leather like the smell and feel just as you are. Just ask anyone with a
dog and a leather sofa!
What Dogs ♥ About Le Bed
Comforting Leather Scent

Stays Cool Naturally Breathable
Comfortable & Super Soft

Scratch & Chew Proof
How do I choose the best size for my dog?
When in doubt, size up.
Simply use your dog's weight and dimensions as the most reliable parameters for choosing the best size bed or refer to our breed size guide.
| | Medium | Large |
| --- | --- | --- |
| Pet Weight | up to 125 lbs | Up to 125 lbs |
| Dimensions | 33" x 25" x 6" | 45" X 35" X 6" |
| Breed Examples | King Charles Spaniel, French Bulldog, Beagle, Corgi, Cocker, Spaniel, Shiba Inu, English Bulldog, Border Collie, Mini Australian Shepard, Labrador, Basset Hound, Chow, Chow, Pointer, Terriers, Doodles. | Labrador, Golden Retriever, Standard Poodle, Boxer, German Shepard, Dalmatian, Rhodesian Ridgeback, Australian Shepard, Great Dane, Bemese Mountain Dog, Doberman, Pit Bull, Rottweiler, Newfoundland |
We offer six different colors of beds in two sizes aimed at medium to giant breeds who will benefit from the orthopedic mattress support.
View Sizing Chart
How do I clean a leather bed?
Good news!
You do not need to waste time laundering your Le Dog leather dog bed. Le Bed easily wipes clean so you can forget about having to wash your dog bed cover ever again. We recommend using a glycerine soap to clean and condition the leather. Visit our Care page for our recommendation on how to keep your bed looking fab.
Read more on our blog
How To Clean Your Leather Dog Bed | Easy To Clean No Launder Dog Beds
Leather Balm & Cleaner
$24.00 CAD
Will spills or my wet dog ruin the leather?
More good news! Leather is extremely resilient and particularly good for dogs that drool, lick or like to come in and have a nap after a wet romp in the great outdoors. Le Bed will easily wipes down so no more washing your dog bed cover. It's also naturally water resistant making it easy to clean up after accidents.

Accident? No problem simply wipe it and forget it. Name another material you can have in off white that you can dump red wine on?
Visit our Care page
Will this leather bed support my elderly dog?
We use 100% Genuine Natural Milled Leather for the cover, which is naturally water resistant making it easy to clean up after accidents. Le Bed comes with a human-grade orthopedic mattress specifically designed to ensure your fluffy friend is as comfortable and happy as possible. The top is a cooling gel memory foam that not only helps regulate temperature but also adds cushion for maximum comfort. The base is a high density foam to keep your dog elevated off the ground, combat pressure points and help the bed maintain its sexy shape. Which means no sinking through to the ground like traditionally stuffed beds.
Read more on our blog.
Keep Your Senior Dog Comfortable | Best Memory Foam Dog Bed
Do Orthopedic and Memory Foam Dog Beds Live Up To The Hype?
What makes Le Bed so comfy?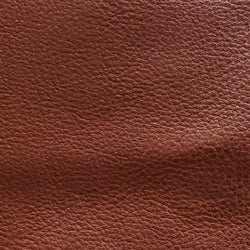 100% Genuine Natural Milled Leather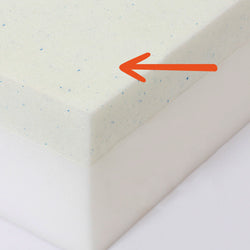 Cooling gel memory foam top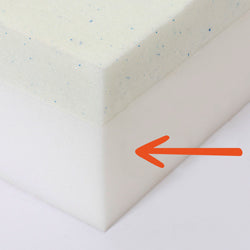 High density foam base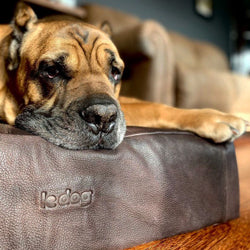 Comfortable and super soft
How tough are our beds?
Our Le Dog leather beds are made of 100% genuine full grain leather, and they get better with wear → our beds are no exception.

The more your fluffy friend loves their bed, the more supple it will become, developing a patina unique to your pup. Scratches will happen naturally but regular leather treatments with our leather balm will bring the leather back from regular wear and tear.

Of course a puncture is a puncture, but our leather is durable and thick, and allows for a lot of rough and tumble → from even the most persistent chewers. It's the only dog bed that actually gets better with wear vs breaking down over time like traditional dog beds.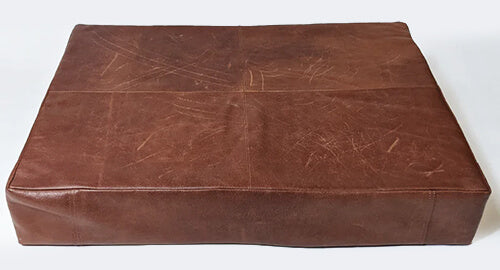 Scratches?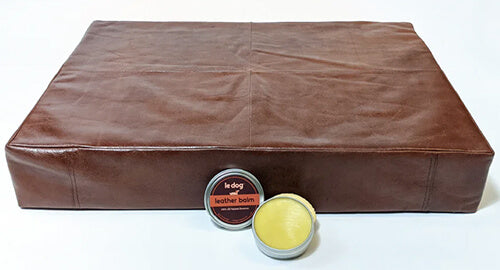 No Problem!
What makes Le Bed special?
Find out why we made Le Bed, our pride and joy, and why Le Dog Company exists. The first no launder dog bed that actually looks good in your home and gives our dogs the support they deserve. We're on a mission to make the most stylish and functional dog products on the market.
We don't believe in compromising between our dogs needs and ours and neither should you!
Shop Le Bed
Orders, Shipping, Delivery & Returns
HOW LONG DOES IT TAKE FOR MY ORDER TO PROCESS AND SHIP OUT?
In the United States orders will be processed in 1-2 days and shipped via UPS ground and typically take 4-7 business days. In Canada your order will processed in 1-2 days and ship via UPS and will arrive within 4-7 days. If you need your order by a certain time, please contact us directly at hello@ledogcompany.com and we will try our best to accommodate.


Contact Us
Do you have a payment plan option?
Don't worry about paying in full up front. You can now pay for your item in four affordable instalments with Afterpay.
Shop now. Pay later. Always interest free. Sign up is simple. Available to both Canadian and USA shoppers.
How it works

Add your favorites to cart

Select Afterpay at checkout

Log into your Afterpay account

Make the first of 4 payments
DO YOU SHIP INTERNATIONALLY?
We currently ship to the USA and Canada. Please reach out directly if live outside our current shipping areas. We will do everything in our power to get you a bed if we can!
Contact Us
What do I need to do if I would like a Refund?
We have a 30-day return policy, which means you have 30 days after receiving your item to request a return.

To be eligible for a return, your item must be in new condition, with tags, and in its original packaging - meaning the foam mattress must be unopened. You'll also need the proof of purchase. We charge $10 restocking fee which will come off your return amount.

To start a return, you can contact us at hello@ledogcompany.com. We'll send you a return shipping label, as well as instructions on how and where to send your package. Items sent back to us without first requesting a return will not be accepted.
Find Out More